Beijing Haidian Hospital's Nephrological Dept Taking the Lead in Carrying out Wireless Hand Ultrason
2023-03-03

383

Sonostar Technologies Co., Limited
As everyone knows that vascular accesses are regarded as hemodialysis patients' lifeblood. So far, the internal arteriovenous fistula puncture technology is universally acknowledged as the most extensive application in hemodialysis access with the least medical complications. A good access can provide a high-quality life's crucial guarantee for a hemodialysis patient.
For a limited quantity of non-renewable blood vessels cannot be completely replaced, what clinicians and clinical nurses focus on is how to farthest extend life time of a patient's accesses, correctly use and safeguard internal arteriovenous fistulas, and effectively avoid medical complications relevant with punctures.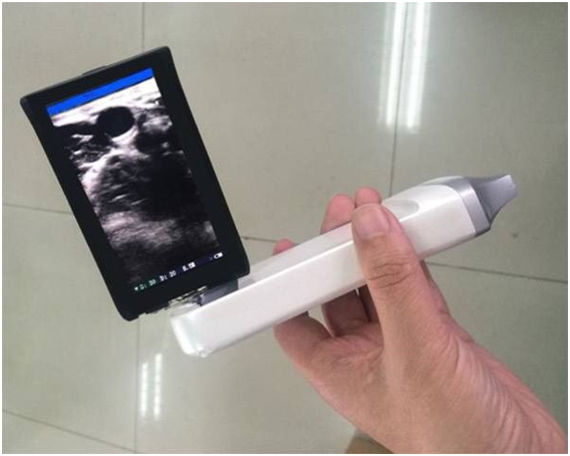 Beijing Haidian Hospital's Nephrological Dept, Director Wang Yuzhu put forward that the future development trended in imaging instruments guiding daily internal fistula puncture at the early of 2017, and gave an example that Sonostar's wireless hand ultrasound instrument played a role of an excellent guiding, its features including low cost, compact, wireless, waterproof, convenient sterilization and so on. Above all, for the first internal fistula puncture, obese and buttonhole puncture patients, and other patients who perform the internal fistulas in trouble caused by other reasons, Sonostar's wireless hand ultrasound instrument can greatly improve the puncture success rate, reduce incidence rate of hematoncus, pseudoaneurysm and other medical complications.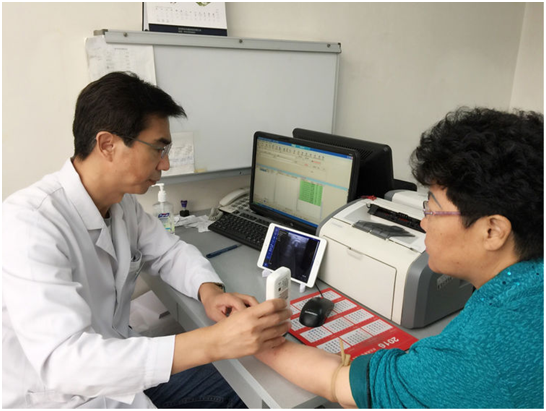 Under the guidance of Director Wang, the Nephrological Dept's Hemodialysis Room was the first in China to carry out a trocar to perform the internal puncture technology with the help of the wireless hand ultrasound in March of the year, including difficult internal punctures, artificial blood vessel guiding punctures, buttonhole punctures, up to 11 successful punctures, which has received very affirmatively clinical effect, has improved success rate of initial internal fistulas and difficult puncture fistulas, and has resolved problems in clinical care work.
American INS issued the latest transfusion treatment guideline in 2016 that a transfusion was officially taken as a treatment together with doctors, nurses, pharmacists and ultrasound doctors, and suggested that a visual instrument should be used in estimating the guiding puncture to improve success rate of punctures. We also thought the guideline was similarly suitable for the hematodialysis internal puncture, and suggested that every nurse could try 2 internal fistula punctures, up to 4.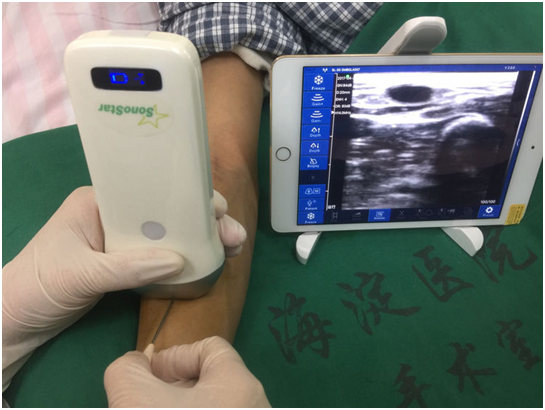 For easily clinic operations of the ultrasonic guidance technology, doctors and nurses master them with ease. With low cost, the noninvasive technology does not need extra consumable items without absolute contraindication, and is widely applied in hemodialysis room.
In a word, the vascular access has been a weak link of the dialysis treatment for years. For a long-term applied access with various lesions, doctors and nurses need to take all things into consideration, covering that they should perform correct assessment and foreseeable checks, accurately implement access management, grasp proper applied occasions and methods of visual puncture instruments. The hand ultrasound technology applied in the clinic has solved the clinical care's problems to some extent, and has made bold attempt to reduce the internal puncture complications, raise the puncture success rate and delay patient accesses' life time.